GLASSWARE REPAIR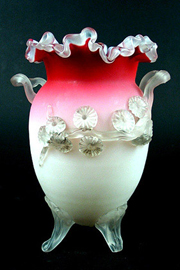 Antique glass has been produced in a number of different ways through the years and glass itself has taken on many forms in our lives; ranging from the most fragile decorations, to the bulletproof glass windows that protect bank & currency exchange tellers from potential gunfire. Glass is indeed a very mysterious substance.

You may have wandered into an antique store at one time or another to admire (if not purchase), antique glassware items in your life. I think it is safe to say that stained glass in architecture is one of the true wonders of our planet. Perhaps you have seen an example of a glass-blown bowl, or an ornate antique glass sculpture that took your breath away to the extent that you just had to have it. Leaded glass is known for its ultra brilliance and an increased optical dispersion, making these items truly unique and irreplaceable.

The fact is that people have been amazed at glass long before the first known glass production, some 5,500 years ago. How can that be, you say. Partially because there are examples of substances such as Moldavite, thought to have been formed by meteors striking the earth [some] over 35,000,000 years ago. There are also numerous examples of volcanic glass such as obsidian, which forms when the right mixture of silica is present during the volcanic eruption process.

Dean Schulefand & Associates may not have been around for 35,0000,000 years, but with over 30 years of experience restoring and repairing of antique glassware, we are one of the most respected names in the antique repair industry. We know all there is to know about the different types of glass, how they were made and how to properly restore and repair antique glassware items to 100% original condition.

Several questions often asked of us are, "What if my particular glassware item is broken into many pieces?" And, "My antique glassware has been valued at a very high dollar amount; should I try antique repair solutions or leave it as is?" Dean Schulefand & Associates can answer all your questions. More importantly, we can repair most or any glass piece, no matter if it is an antique from your great grandmother's collection, a precious treasure by Angelo Barovier from 1485, or a brand new work of art by Luigi Mellara or his contemporaries, or ANYTHING ELSE...GLASS!

Some (but certainly not all), of the types of antique glassware items we have repaired are glass sculptures, glass bowls, glass steins, glass goblets, glass vases, impressionistic glass flowers, glass figurines, stained glass lamp shades and many other items, all backed by our 100% lifetime guarantee.

Please know that we are more than happy to speak to you personally about your antique repair and restoration needs, no matter what they are.

At Dean Schulefand & Associates, we guarantee our work unequivocally, because we fully understand the process of repairing all types of glass. We are experts. We can repair and "re-decorate" and/or paint to color-match the original. In most cases, our antique repairs are so fine that they will not be visible to the naked eye, nor under black light inspection, or even to the touch. For those reasons and more, our repeat customers consist of people from all lifestyles and occupations including antique glass collectors, insurance appraisers, private owners and museum curators.

We use best-of-class materials and antique repair techniques to ensure that all broken pieces are fitted back together, then use our vast experience in the restoration process so that the piece not only looks like new, but can also be appraised as 100% restored.

The bottom line is that Dean Schulefand & Associates knows your antique glass is more than just a mixture of silica, sodium & calcium oxides fused together…It is your treasure! Would you really want to trust your antique glassware repair to anyone who does not share the same appreciation and passion for it as you do? We think not.

We hope to add you to our growing list of 100% satisfied customers.
Call 800-669-1327 Today or