Boehm Porcelain Repairs and Restoration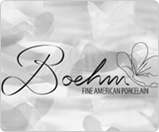 E. M. Boehm, now Boehm Porcelain, is the artisan studio founded by sculptor Edward and wife Helen Boehm in the 1950s. Today they are recognized as one of the world's foremost porcelain studios. Boehm fine porcelain sculptures and open collection and limited edition collectibles, as well as historically-commissioned pieces are created by highly skilled artisans in the same Trenton, New Jersey studio in which the company was founded.

Art from the Boehm studio has been presented to Her Majesty Queen Elizabeth II, Pope John Paul II, Mikhail Gorbachev and every U.S. President since Dwight Eisenhower. Boehm Porcelain is currently showcased globally in the homes of discerning collectors and celebrities as well as the world's foremost museums and galleries including the Metropolitan Museum of Art, the Hermitage, the Smithsonian, the John F. Kennedy Center for the Performing Arts, the Tokyo National Museum, the Israel Museum, the Singapore Art Museum and the Abdine Palace in Cairo. Boehm porcelain is the only American art form to have two dedicated rooms in the Vatican Museum in Rome.

Hire the best for Boehm Porcelain Repair and Restoration. For over 30 years, Dean Schulefand is one of few specialists in the US who is experienced in Boehm Porcelain Repair and Restoration. He is personally involved in the repair and restoration of every facet to ensure the best in quality with pristine results.

Our Boehm Porcelain repairs and restoration services are 100% unconditionally lifetime guaranteed.
Call 800-669-1327 Today or