Delft Pottery Repair and Restoration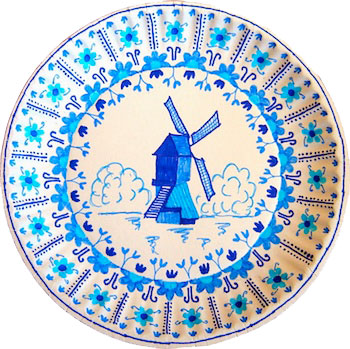 Delftware, or Delft pottery, denotes blue and white pottery made in and around Delft in the Netherlands and the tin-glazed pottery made in the Netherlands from the 16th century.

Delftware in the latter sense is a type of pottery in which a white glaze is applied, usually decorated with metal oxides. Delftware includes pottery objects of all descriptions such as plates, ornaments and tiles.

Today, Delft Blue (Delfts Blauw) is the brand name hand painted on the bottom of ceramic pieces identifying them as authentic and collectible. Although most Delft Blue borrows from the tin-glaze tradition, it is nearly all decorated in underglaze blue on a white clay body and very little uses tin glaze, a more expensive product. The Koninklijke Tichelaar Makkum factory in Makkum, Friesland continue the production tin-glazed earthenware.

Commission the finest for your Delft Pottery Repair and Restoration needs. For over 30 years, Dean Schulefand is one of few specialists in the US who is experienced in our service. He is personally involved in the repair and restoration of every facet to ensure the best in quality with unmatched results.

Delft Pottery Repair and Restoration. Our delftware repair and restoration services are 100% unconditionally lifetime guaranteed.
Call 800-669-1327 Today or