Flow Blue China Repairs and Restoration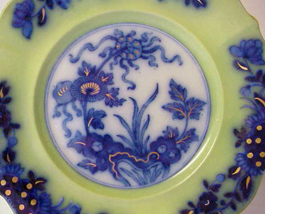 Flow blue is a style of white earthenware or china, sometimes porcelain, that originated in the Regency era, sometime in the 1820s, among the Staffordshire potters of England. The name is derived from the blue glaze that blurred or "flowed" during the firing process.

Most flow blue ware is a kind of transferware, where the decorative patterns were applied with a paper stencil to often white-glazed blanks, or standard pottery shapes, though some wares were hand painted. The stencils burned away in the kiln. The blue glazes used in flow blue range from gray-blue to sometimes greenish blue, to an inky blue; however the most desirable and sought-after shade is a vivid cobalt blue. Mulberry is another form of flow blue, where the glaze is more purple in hue.

Trust the experts for Flow Blue Repair and Restoration. For over 30 years, Dean Schulefand is one of few specialists in the US who is experienced in Flow Blue Repair and Restoration. He is personally involved in the repair and restoration of every facet to ensure the best in quality with excellent results.

Our Flow Blue china repairs and restoration services are 100% unconditionally lifetime guaranteed.
Call 800-669-1327 Today or