Lalique Vase Repair and Restoration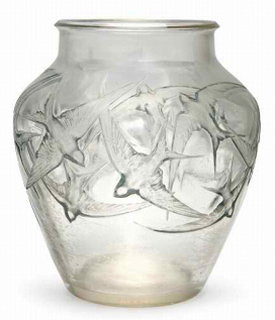 René Lalique was a French glass designer known for his creations of perfume bottles, vases, jewelry, chandeliers, clocks and automobile hood ornaments. He was born in the French village of Ay on 6 April 1860 and died 5 May 1945. He started a glassware firm, named after himself, which still remains successful today.

In the 1920s, he became noted for his work in the Art Deco style. He was responsible for the walls of lighted glass and elegant colored glass columns which filled the dining room and "grand salon" of the SS Normandy and the interior fittings, cross, screens, reredos, font of St. Matthew's Church at Millbrook in Jersey (Lalique's Glass Church). His earlier experiences in Ay were his defining influence in his later work. As a result, many of his jewelry pieces and vases showcase plants, flowers and flowing lines.

Commission the best for your Lalique Vase Repair and Restoration needs. For over 30 years, Dean Schulefand is one of few specialists in the US who is experienced in Lalique Vase Repair and Restoration. He is personally involved in the repair and restoration of every facet to ensure the best in quality with unmatched results.

Our Lalique vase repair and restoration services are 100% unconditionally lifetime guaranteed.
Call 800-669-1327 Today or