Rose Medallion Repairs and Restoration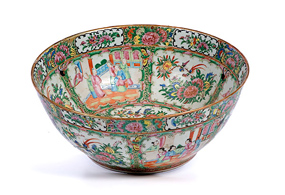 Rose Medallion items were imported to the US from China during the 19th and 20th century, among many other items during the era. Today, the pieces are sought-after and regularly traded among collectors. Key features of Rose Medallion specimens include very distinctive patterns, and normally four or more panels that are decorated around a central medallion. The central medallion is normally either a bird or peony, or depicts birds and people in a background decorated with trees of peonies and leaves.Rose Medallion pieces are usually unmarked. While this likely leads to many specimens being unwittingly discarded, it also offers advantages to the informed collector.

With Rose Medallion collectibles, colours are the give-away feature. These traditionally include greens, pinks, and many other almost pastel colours.

Look to the professionals for Rose Medallion Repair and Restoration. For over 30 years, Dean Schulefand is one of few specialists in the US who is experienced in Rose Medallion Repair and Restoration. He is personally involved in the repair and restoration of every facet to ensure the best in quality with excellent results.

Our Rose Medallion repairs and restoration services are 100% unconditionally lifetime guaranteed.
Call 800-669-1327 Today or